transform expiring web copy into fresh conversions
You can find all kinds of cleanses and detoxes for your mind and body - but what about your BUSINESS?
Allow me to explain.
Copy is a tricky thing - everything sounds fantastic when you put it together, but once you get it up and running... It doesn't matter what you think - it's up to your audience. So, you just nervously tap your fingers and wait for the sales and traffic to trickle in.
If you're having recurring nightmares (and indigestion) thinking that your website isn't...
Attracting your ideal client (or any clients)...

Turning visitors into paying customers...

Communicating your message well...

Providing an exceptional user experience...

Selling your stuff the way it should...
... Then the last thing you need is to be cringing, one year after launching your website, refreshing those Google Analytics numbers, double-checking to make sure you didn't miss a purchase, a click or a newsletter sign up.
There might be a customer here and there, but it won't be what you were hoping for.
I hate to break it to you...
But you can't keep waiting for things to pick up without a different approach!
It's like eating hummus right after its expiration date - just a little too sketchy.
And later, you'll probably regret not buying a fresh one instead.
Don't get me wrong - I'm sure there are probably tons of healthy chunks in there, but they likely have some toxic copy killers and stale paragraphs that aren't serving you well anymore and driving your audience away.
Let's scrub it clean and get all the gunk out, together.
This isn't your average green smoothie or cayenne pepper detox designed to pack a quick punch and get you over the hump - the Copy Cleanse will help you make concrete changes that will stand the test of time. Like a jar of sweet, sweet honey.
(Sidebar: Did you know that archaeologists once found a jar of 3,000 year-old honey in an Egyptian pyramid and it was still edible? I know, right? Okay, I can't promise 3,000 years of amazing web traffic. But you get the point.)
This is the best kind of cleanse you could ever invest in.
By taking what you have, purging what you don't need and elevating existing potential on your website, together we'll get you the clicks you've been waiting on.
The ingredients:
A live, 45-minute review of your web copy, design and user experience with moi

Copy brainstorming on the spot

A video recording of our session together and a detailed document outlining all my suggestions, new ideas for your copy, taglines, calls to action and TONS more

Exclusive access to future Copy Cleanses at a super-special price
Bye-bye, indigestible copy! Hello, flowing words and hella $$!
What's really in it for you?
Sparkly new copy ideas. In our 45 minutes together, I'm there to help you find the right words where you need them - I'll be brainstorming new copy with you on the spot and you have free rein to try to pull as much good stuff out of me as possible.

Answers to all your questions. Why isn't anyone clicking anything on your page? How are you losing customers? What's going on that's driving business away? The Copy Cleanse will help you figure out what those weak spots are, and how you can fix them.

A fresh coat of polish. From editing your calls-to-action to spotting spelling errors, I won't hold back on the nitty gritty when it comes to grammar - and you'll thank me for it.

A discerning eye on your design and user experience. As a copywriter and graphic designer, you've got two parts of my brain ready to tackle your page: if there's a colour choice that's not working, a user navigation process that's wonky or fonts that are out of place, I'll catch all those details too.
This service is ideal for small to medium-sized businesses and anyone who is struggling to:
Bring in the sales

Get eyeballs on their page

Attract the right audience

Optimize their landing page
If you have a home, sales, services or landing page that isn't serving your business anymore, the Copy Cleanse is for you.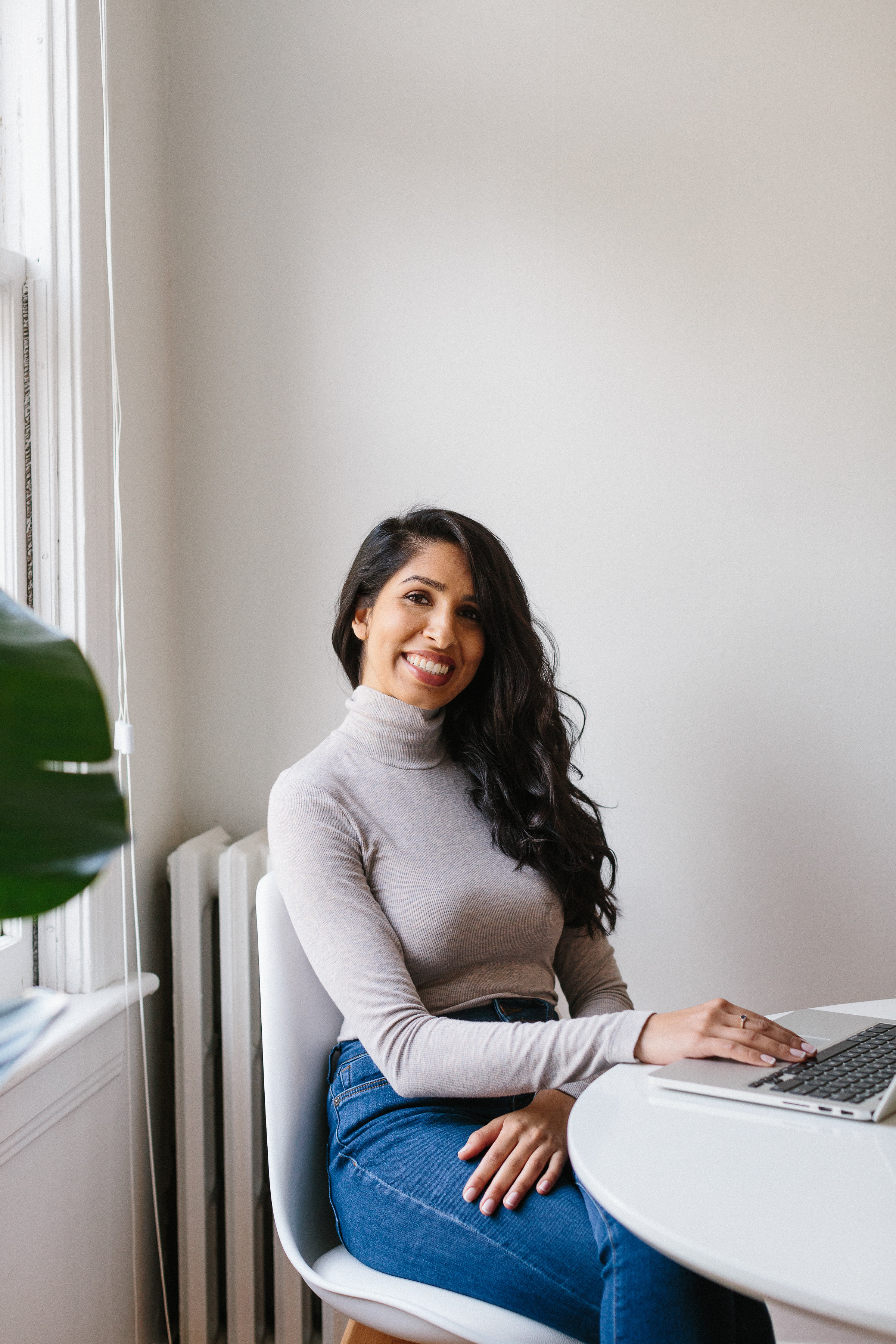 Step 1: Fill in this quick form telling me what you're looking for and how The Copy Cleanse can support you! I'll follow up within 48 hours if we're a good fit, with additional details to book into my calendar and submit payment.
Step 2: We hop on a video call together, and I'll give you my live copy edits, grammar check and design audit. PLUS - new copy ideas!
Step 3: After our call, I'll send over a video recording of our live chat and a detailed document with everything you need to record and remember.
Step 4: Apply my suggested changes to your website, and watch more sales roll in, increased web traffic and overall: enjoy way better copy that sounds truer to your brand and attracts your ideal customers.
so good, you won't want our call to end
"When I purchased Zafira's Copy Cleanse I wanted her to look at my website to ensure my message was being communicated clearly to my target client. I was amazed by how much work she had done prior to the call... The tweaks and changes she recommended were spot on and have allowed me to finally tell my audience what it is I do! She gave me options in case a tagline or phrase wasn't resonating, and offered advice on how to word my services so clients would actually read it instead of skipping over. I now have so much to work with, in case I decide to change something in the future.
She has an uncanny gift for pulling a website together just by tweaking the existing copy and offering new ideas... Most of all, she taught me how to think like my client and write my copy with their lifestyle and desires in mind. Zafira, you are an absolute genius and definitely a copy authority - I didn't want to get off the call with you!
- Parm Manhas, Certified Integrative Nutrition Health Coach & Therapeutic Natural Chef
you can get your money back. guaranteed.
If I can't find at least 3 ways to improve your copy or conversions, you'll receive a full refund. If your copy already seems to be in order, you'll still receive a full refund. If that's the case, I'll process your refund via Stripe within 24 hours of your request, and you'll get your dolla-dolla bills back - no hard feelings.
But if there's room for improvement... Oh goody. We'll get straight to taking it all up a notch! You can expect my 100% honest, straight-to-the-point feedback which might make you wince at first - but is guaranteed to set you up for success. Cha-ching!
fresh ideas that increase conversions
"As an early-stage (& mostly solo) entrepreneur, I'm constantly creating copy and shipping landing pages before they are ready. It's important to move quickly, but it's even more important to ensure quality copy. I hired Zafira to come in at the and review my sales funnel right before a particularly big launch. She jumped right in and really made my copy shine! Not only did she find a number of content errors, but she gave me some fresh new ideas that have increased my overall conversion rate and definitely increased my confidence. I look forward to working with Zafira again in the future - she is a stellar copywriter and gets results, fast."
- Kate Bagoy, Business Coach & Founder of Six Figure Freelancers
the best copywriter you'll ever work with
"I was worried that my message for my business retreat sales page wasn't clear and as a result, wouldn't convert my audience to sign up. Zafira reviewed my content thoroughly and made it more clear, exciting and relevant! I found it extremely beneficial, as it provided so many professional edits to my site that I couldn't have done alone. Zafira is truly the best copywriter I have ever worked with, and I'd love to work with her again in the future."
- Mia Scuric, CEO & Founder of Travelpreneur Tribe
Go on, treat yo' self. Your business deserves it.
Your investment:
$375